Click the thumbnails to enlarge
The RescueRake is overall about 8 inches in length from the top of the head to the end of the handle. The body is made of aluminum with the handle covered in sanoprene rubber for a non slip grip.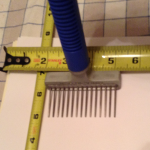 The head is 3 inches wide and contains a nylon rib which holds 15 evenly spaced pins.
The head also positions the pins at a 115 degree oblique angle to the handle.
The pins are alloy steel, heat treated to Rockwell hardness 54. The rib is keyed to a cavity in the head and retained with 3 set screws.
The long pins are 1-1/2 inches in length with rounded tips. In the near future we will also be offering a rib with short pins of 3/4 of an inch. For those who wish to use both length pins, we will offer the rib with short pins and quick change fasteners as a kit.